Bursaries 2018/19
The Bursary Program is designed to assist students entering or continuing their post-secondary education, including courses and programs of a technical and vocational nature, outside of and beyond secondary school. Approved bursary assistance is not based upon scholastic standing but rather on the successful admission status to a post secondary institution or successful completion of one or more years leading to a recognized degree, diploma or certificate.
Students applying for assistance may be granted a bursary based on documented need at a rate determined by the Branch Bursary Committee.
Indentured apprentices may apply for assistance for the purchase of tools and instruments.
Eligibility: Bursaries may be granted to children, grandchildren and great grandchildren of any of the listed below.
1. Any person who is serving or who has honorably served in the Canadian Forces;
2. Merchant Navy personnel who are eligible for and who have been awarded campaign stars or decorations, and their dependents who are in need of assistance;
3. Ex-service personnel of commonwealth countries, other than Canada and of allied countries, resident in Canada;
4. Applicants who have graduated from or reside in the Kanata Area are given priority in the application process. Consideration is given to students who do not reside in the Kanata area, on the condition that funding is available;
5. Applicants must also commit to participating in our Poppy Campaign and volunteer for a two hour shift. If you are unable to participate then you can have someone substitute on your behalf. The Campaign runs from the last Friday of October to November 10th of each year.
Application: Applications and further information are available in printable version from:
or may be picked up at:
Kanata Branch 638
Royal Canadian Legion
70 Hines Road, Kanata, Ontario
K2K 2M5
***2019 APPLICATIONS MUST BE RETURNED TO THE LEGION BY:
JUNE 1st, 2019 FOR THE UPCOMING OF YOUR ACADEMIC YEAR, SEPTEMBER-AUGUST
Ontario Command Bursaries
Youth Education

Annual Poster, Literary, Video and Public Speaking Contests
Annual Poster and Literary Contest Rules
2018 Poster Contest Rules
Annual Poster and Literary Contests Entry Forms
Video Contest
Bursaries

Closed for 2018
We regret that the 2018/19 Bursary Program is closed. We invite you to apply again next spring!

Bursary recipients of 2018:
August 29th Presentations
Recipients: Alison Glasgow (Grandmother Mavis on her behalf), Adam James, and Anthony MacLean.
August 8th Presentations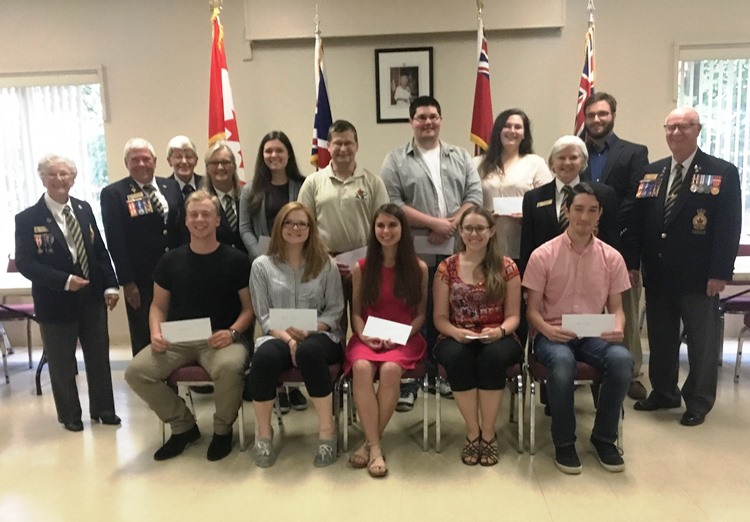 Standing: (L to R) Margaret Judge,Mary-Jo Gauthier, Lorraine Lapensee, Angie Jacklin, Ashley D'Eon, Kathryn Hart (father Kevin pictured), Alexandre Lafleur,
Alyssa Latimer-D'Aoust,
Nicholas Parsons, Bruce Judge
Seated:
Gordon McIlquham, Shannon McIlquham,
Erin Lange,
Julia Gladstone,
Patrick Lafleur, .
Absent from photo Chelsea Cooligan, Colleen Cooligan, Carley Fish and Heather McIquham (Alison Glasgow, Adam James, Anthony MacLean, Luke McCaskill to receive their bursaries 29 August).
Rachel Needham - Graduated from Perth District High Jared Corman - Graduated from West Carleton High School (with Moira Green) School (with Garth Lee)
The Kanata Legion will be presenting the remaining Bursaries on the 8th of August at the Branch.